But finally, just before the dawn rose in the eastern sky, Rita had convinced him that Woolly was the best choice.
"You're right," Wolstencroft said as he closed his eyes and prepared to sleep. "It's nice to be dignified, but not to be stuffy."
And so it was that Wolstencroft became known as Woolly for short.
"I bet someone will come along and buy you tomorrow," Rita predicted as she fetched a black felt pen from the stationery department and underneath Wolstencroft, wrote Woolly for short.
But Rita was wrong. It was she, and not Wolstencroft, who went to a new home the next day.
Nobody bought Wolstencroft that day. Or the next day. Or the day after that.
In fact, all through that entire year, which felt very long indeed to Wolstencroft, nobody took him home to love and to hug him. And by this time he longed to be hugged so badly that sometimes he thought he just couldn't stand it any longer. Because, of course, no hug is too big for a teddy bear.
Soon it was almost Christmas time again. And the tinsel and the holly were decorating the drug store. And the shoppers were all very merry and wearing gaily colored scarves and mittens. But still no one bought Wolstencroft, who was feeling extra sad and lonely sitting there all by himself high above the Christmas cards and wrapping paper.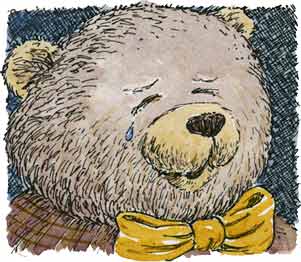 It's my name he decided sadly, as a tear rolled down his furry cheek. I hate it. And so does everyone else. I wish I were called anything but Wolstencroft. Even though it's now Woolly for short.
---